The evolution of technology, storage, and processing power has contributed to the embodiment of cloud computing and its growing popularity for critical business support functions. A more advanced, cloud-based technology is now replacing the long and costly cycle of purchasing servers, Software, licenses, and equipment.
Pivoting into the cloud can be a considerable challenge. That is why the platform you select is going to be a significant choice that could potentially impact company goals in the short and long term. Below we compare the two major players on the market, Oracle Cloud VS Amazon Web Services ( AWS), to find a solution for the needs of your database management system.
Oracle Cloud
Oracle Cloud is a cloud computing framework that incorporates the applications Infrastructure as a Service (IaaS), Software as a Service ( SaaS), Application as a Service ( PaaS), and Data as a Service (DaaS) within Oracle's cloud infrastructure. Oracle Cloud provides seamless workloads for enterprise users and developers that meet server, storage, device, and network needs. The four Oracle Cloud services are;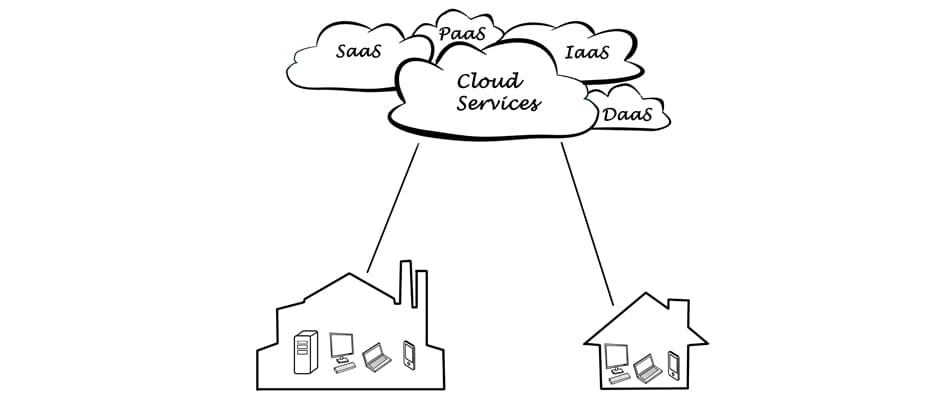 Oracle Cloud Platform (PaaS)

The Oracle Cloud Platform enables users to develop, deploy, incorporate, and expand cloud-based applications. Oracle leverages artificial intelligence with mastering the machine to offer automated solutions to organizations.
Integration: This service provides adapters that support databases on-premise and cloud.
Information Management: It is a data management framework consisting of transaction processing, data storage, and no SQL database autonomous solutions. It is the first on the market to have an independent database.
Protection: The Oracle Cloud Platform provides end-to-end protection by controlling the specifications of a hybrid cloud setting, IT governance, and compliance.
Application Development: It is a free, standard-based, and standardized application development framework built for large-scale enterprises wishing to create and operate first cloud applications for mobile and APIs. It facilitates the creation of native, cloud-based, and low code containers.
Oracle Cloud Infrastructure (IaaS)
The IaaS solution from Oracle enables users to develop and run a large number of applications and services in the host environment of Oracle. The programs encompass:

Networking: Oracle offers flexible Virtual Cloud Networks (VCN), routing, IP addresses, and firewalls to enable continuous protection of private networks.
Compute: Oracle offers Virtual Machine instances to clients configured for varying workload rates and business efficiency.
Database: This service provides reliability, data security, and granular controls for Real Application Cluster (RAC) users in one reliable cloud environment.
Storage: Oracle's IaaS provides block length, storage of archives, and storage of items to fit client needs from small websites to larger, more demanding applications for businesses.
Oracle Data Cloud (DaaS)
This framework utilizes Oracle ID Graph to access external data, offering consumers a cross-channel market understanding that intended for advertisers and companies who want to understand customers deeply.
Oracle Cloud Applications (SaaS)
SaaS solution used by Oracle is known as Oracle Cloud Applications. These cloud-based systems deliver distinct, industry-specific products and services for uniform features, with different implementation choices. From artificial intelligence to the Internet of Things Apps, the industry offers everything.
What is AWS?


Amazon Web Services (AWS) is a cloud service provider that provides solutions such as Network as Service ( IaaS) and Application as Service ( PaaS). Amazon's offering cloud service offers server, storage, networking, email, remote computing, and security solutions for customers. Below we define the most widely used AWS services, which are divided into four categories:
Databases
Amazon DynamoDB: This is a completely managed AWS-based NoSQL database service offering high scalability and versatility, ideal for Smartphone, gaming, and ad tech solutions.
Amazon RDS: Amazon's Relational Database Service (RDS) is a related and accessible Web service for MySQL and Oracle Server. This supports users in managing and configuring cloud relational databases.
Amazon ElastiCache: This service is completely controlled in-memory cache and data storage service suitable for high-performance cases close to DynamoDB ones.
Storage
Amazon S3: Easy Storage Services (S3) offers infinite storage space through the cloud service interface. It is the cloud storage that is most supported since other AWS resources addressed here will read and write from S3.
Amazon Glacier: This method is used for archiving in the long term. This ensures that backup products in deep storage are safe and stable, even though they are rarely used.

Amazon EBS: The Elastic Block Store (EBS) of Amazon provides volumes of block storage for the EC2 instances. It is preferred to store permanent data and can vary from 1 GB to 1 TB in storage capacity.
Compute
Amazon EC2: The Elastic Storage Cloud (EC2) from Amazon provides customers with a resizable computing ability so that customers can launch as many private virtual servers as they need while retaining the security and networking features.
Tools
Amazon CloudFormation: Helps users to customize many on-the-go AWS services with common language capabilities.
Amazon Elastic Beanstalk: Helps deploy and manage web applications, benefiting from maximum capacity distribution, load balancing, and more.
AWS IAM: Enables user identity management capabilities and user access control of IT administration on different AWS tools.
Main Differences: AWS VS Oracle Cloud
Ensuring that the best cloud storage provider meets the database needs is a critical business decision. Considering that Oracle Cloud and Amazon Web Services (AWS) are one of the two largest players on the market right now, the key differences between each platform have been narrowed down, and detailed below:
Market placement
Oracle Cloud came onto the market in 2015. Oracle had a very robust set of product offerings, such as Oracle Enterprise Performance Management, Oracle Enterprise Resource Planning, and more. The firm has established its expert presence in the software and software licensing solutions field.
Amazon has established and hosts some of the largest and most notable public clouds, such as the cloud database of SAP Hana, Netflix, and Instagram. They have built a wide presence in the market where their expertise serves as a significant competitive advantage.
Cost and payment model
Oracle currently offers a price cut for long-term customers who already pay a discount for licenses to applications like Middleware and database if they choose to run their software in the cloud.
Amazon Web Services (AWS) provides a pay-as-you-go fee model that gives customers flexibility over how many services they need to add to expand. Users can save money when they book for services such as Amazon EC2 and RDS. Investing in reserved capacity is equal to capacity on demand, meaning the higher the initial cost, the higher the discount.
Oracle Cloud also provides a pay-as-you-go model where, according to their website, the laaS and PaaS services are calculated hourly and paid only for the resource consumed.
Customer support
Because of the vast options that Oracle Cloud and AWS provide for their cloud solutions, they rely on a wide network and a range of partners to support it. Users are able to get customized solutions and support services based on the particular industry and organizational needs through their partner community.
The AWS Partner Network (APN) offers technological, marketing, and go-to-market support for AWS-based businesses. They provide the resources and support for the partners to advance specific business needs.
The Oracle Partner Network (OPN) is somewhat similar, as it offers the actionable opportunity to migrate to cloud-based services for companies.
Final verdict
The AWS payment model makes quick adaptation as business requirements change and fluctuate. Organizations will be able to pay for services as required. Users can also leverage flexibility when it comes to Oracle Cloud depending on how often they will need to rely on services.
Defining which platform would better fit business needs is critical among the two competitors. Whether it's business-sized enterprises or small companies, data and cloud infrastructure needs are increasing rapidly.