COVID-19 is a frightening shock for the global economy - what began in China from Wuhan is now taking the entire world to its knees. Several businesses around the world are going bankrupt, companies are out of business, people are unemployed, and analysts are yet to predict how long these consequences will take to diminish.
So, whether it is a small business or preparing to start your own company, it is necessary to be aware of these effects to make informed choices. But, before we see the sectors that will flourish after and during the pandemic, let us see their impact on the economy as a whole.
The psychological effect
Many people are currently living under a lockdown or quarantine. It has probably brought a significant effect on the economy and seen on stock markets around the world. Investors are certain about the future, as the knowledge about the spread of the virus and its effect on global growth is at best inaccurate and at worst incomplete.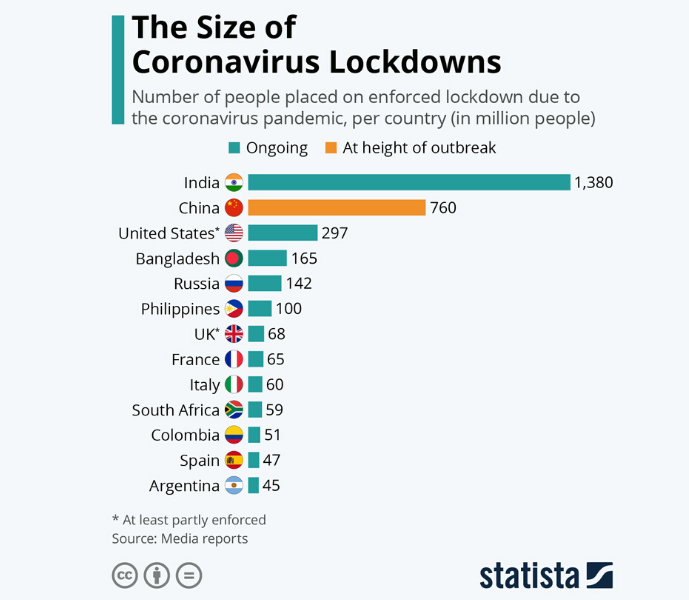 If we speak about consumers who are in isolation, symptoms of mental stress and disorder, including low mood, insomnia, tension, anxiety, frustration, emotional fatigue, and post-traumatic stress symptoms, are very likely to evolve. All in all, the worldwide population is facing psychological impacts, with growing loneliness and low-morale as human interaction and freedom to travel are getting curtailed.
The economic effect
Although it is completely impossible to say exactly what the economic harm from the COVID-19 novel coronavirus pandemic would be, there is a consensus among financial experts that it would have extremely adverse effects on the world economy. The stock of various essential goods has been disrupted, and the market for services and products has dropped off. And if this goes on, COVID-19 could harm GDP worldwide.
10 industries that will flourish with COVID-19 and even after
In every industry, the coronavirus pandemic is changing the market strategy. The sectors that are hardest hit include tourism and transportation, manufacturing, retail, and real estate. Not every industry, however, is suffering a decline due to the effects of the pandemic. Let us take a look at those that are already flourishing: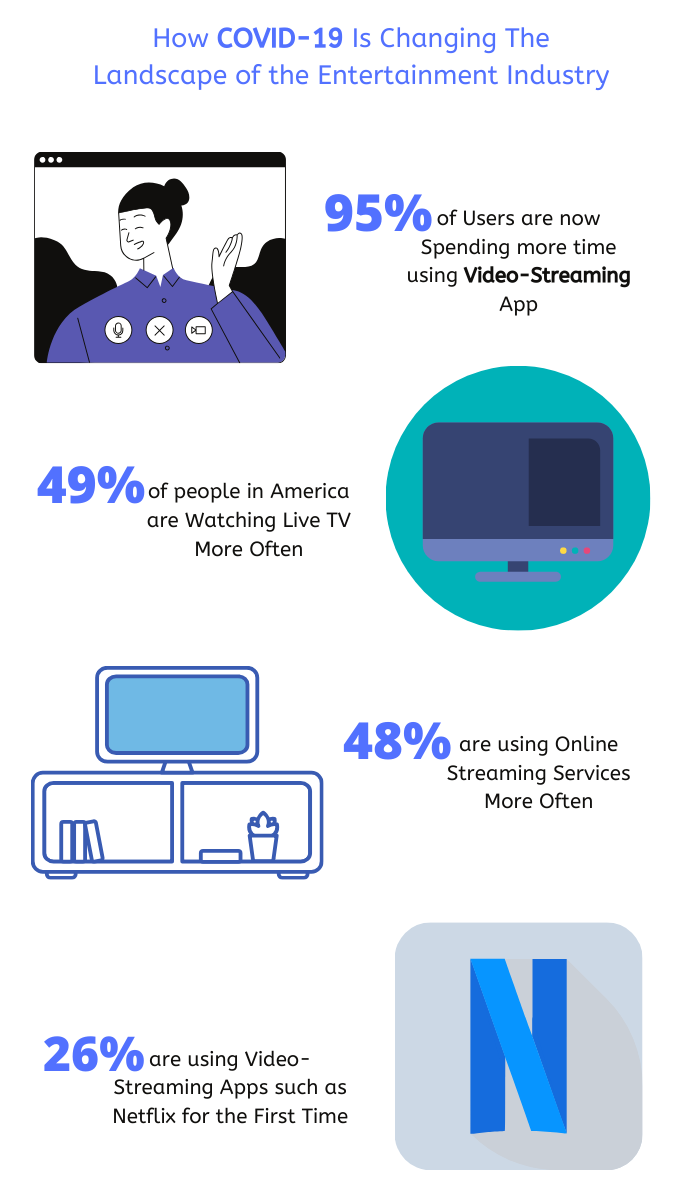 Mobile game downloads have significantly risen as people in quarantine are searching for more approaches to staying entertained at home during the pandemic. Despite businesses and governments worldwide urging customers to practice social distancing, people spend more time in their homes than ever before.
Such notable changes in people's daily lives of people have led to increased sales of gaming apps in app stores. Consumers have invested a lot in consumer purchases across the application stores. More than 31 Million new application updates were available, a 15% rise from the previous year.
Investors are searching for safer alternatives and ways to absorb losses with eyes on sectors that have the potential to emerge in better shape from the recession than others, despite the stock market crash. And, one such area is video streaming. With every passing day, the demand for video streaming apps such as Netflix, Disney Plus, Hulu, and Amazon Prime is growing.
People worldwide spend much of their time watching streaming applications such as Netflix on-demand to enjoy their quarantine time. They also expand their range of choice and identify content types; increase the app retention and acquisition levels. If you intend to invest in setting up a company around streaming online, then this is the right time. The demand is high, and you can take very good advantages from it.

TeleHealth and TeleMedicine
COVID-19 has thrown the medical industry into a frenzy. Hospitals are suffering as the virus spreads faster than businesses can manufacture ventilators, masks, and tests. In such a case, several patients fear to go to the hospitals for regular check-ups fearing they could catch the virus from other people.
At present, Health solutions like telehealth, telemedicine, and on-demand doctor applications are booming to be a great solution to these problems. Telemedicine is one such field that will not go anywhere, right after the end of the pandemic. Once people begin to use these services, they build a habit around them and never quit doing the same thing.
In this time of the pandemic, with billions of people under the stay-at-home orders, online companies are booming around the globe. According to reports, online sales increased by 99% from March 11 through March 29, relative to the previous 19-day duration (Feb. 20-March 10), not only in the USA but in Canada as well.
Electronics, appliances, and do-it-yourself parts saw the most significant spike in online sales, 161%, followed by 160% in the food segment. Online furniture and home decor sales increased by 106%, and sales of sporting goods increased by 105%.
Several U.S. states have now closed restaurants and bars that seek to regulate coronavirus spread. Despite the current laws in 28 states, Americans are still consuming alcohol, albeit a little differently. Researchers claim that people drink an insane amount of alcohol during the lockdown in their homes to endure the boredom.
To work out their thirst, they use on-demand alcohol delivery devices like Drizly and Minibar Delivery. According to Nielsen reports, off-premise sales of wine, beer, and spirits increased by 28, 14, and 26%, respectively, compared to the same period a year earlier, in the week ending March 14. Therefore, alcohol-delivery companies have seen a massive increase in revenue.
Although the COVID-19 pandemic is hit hardest by a range of on-demand business verticals such as taxi and food delivery -distribution on demand is booming like never before. As evidenced by data from Apptopia, the application store intelligence company, grocery delivery apps have started to see a rise in daily download numbers.
Online grocery apps, including Walmart Grocery, Shipt, and Instacart, peaked for daily downloads for their unique applications during the March. When we compare the average day-to-day downloads from February to March, Instacart, Shipt, and Walmart Grocery saw a rise of 218%, 124%, and 160%, respectively.
Massive demand is also felt by the online health and wellness industry along with meditation devices. A rise in downloads for at-home fitness applications such as Nike Training Club and Asana Rebel is an indication that this industry is booming, and there is no indication of slowing down.
Health and Fitness applications set global records for the highest level of both weekly downloads and consumer spending at 59 million and $36 million, respectively, during the seven days of March 22, 2020- a 40% and 10% increase from the January and February 2020 weekly averages.
Such technologies are thus hitting new heights amid COVID-19 lockdowns, consumer demand for exercise advice, motivation, transparency, and accessibility - for both mental and physical health.
With the world on lockdown to prevent coronavirus spread, people are using technology to operate from home and keep in touch with their families and friends. As a result, global downloads of video chat apps like Skype, Zoom, and House party have risen amid the pandemic by over 100%.

In addition to being used for meetings, people in the health and fitness sector use these applications to stream live workout or yoga class videos. Not only fitness geeks, teachers, and diverse students turn to these channels to continue their operations. On Google Classroom, school tasks and meetings are taking place on Zoom, Skype and, House party.
Meditation and mindfulness
Distancing from society and its extended periods can adversely affect one's mental health. People are uncertain about their economic impact and develop tensions that, in turn, lead to meditation and carefulness applications to clear them up. Thus, some familiar apps like headspace and Calm in this industry are taking advantage of it.
Headspace, a meditation app, saw users finish relaxing meditations 13 times more often than in the previous month, and meditations based on anxiety reduction have also climbed. The app has responded to the situation by developing a free content center for all its users with guided meditations and emotional wellness practices.
Digital payment solutions allow users to make payments using the power of Q.R. checking, UPI, etc. rather than cash in the lockdown scenario. The best thing about it is that through these mobile solutions, one can send payments through countries.
Therefore, people are reconsidering the cash they use every day amid COVID-19 spread. And, because contactless and electronic payment methods need less physical interaction and are safer, people are going toward them.