The educational sphere is being greatly transformed these days by the welcoming changes driven by smartphone technology. Byju's success in India has impacted the educational process, making us consider the power of innovative, more progressive m-learning solutions to be real life.

Byju's is a brand of the Think and Learn Pvt subsidiary. Ltd. Byju's offers highly interactive CAT, Civil Services Examination, GMAT, GRE, and School Education online coaching classes. Byju's was established in 2008 and has offices in eight Indian cities, including Delhi, Gurgaon, Bangalore, Mumbai, and Hyderabad.
Innovation in the learning sector has allowed Byju's to receive funding from Facebook founder Mark Zuckerberg's Chan-Zuckerberg Initiative and leading investment firms such as Aarin Capital and Sequoia Venture Capital India. Byju's makes learning to iOS and Android devices immersive and addictive with learning software. Byju's is a trendsetter and has inspired hundreds of educational entrepreneurs.
How much does it cost to have an m-learning device like Byju?
If you're willing to build such a high-quality, admirable, and productive mobile app of Byju's level, we'll help you get your estimate for creating such an app. Here we will reveal how much it may cost in the development of a trendsetting e-learning app like Byju's. Let's first gather more about how Byju came about and why an app is so excellent.
EPixelSoft provided Byju's with the Classes Mentor App that was built to allow parents to evaluate the success of the students on time, such as the learning activities and tests taken. BYJU 'S was highly appreciated by the parents because they could quickly evaluate their child's results, making them better.

In addition, the Mentor App Classes earned the top ranking in the App Store of Apple.
EPixelSoft- Mobile App Development Company USA is designing the Byju's educational app. The app available for this BYJU is for Android, iOS, BlackBerry, and Windows.
BYJU's development cost varies across iOS or Android, or other platforms. It also depends on the functionality you want in an app, such as video tutorials, exams, opt-in, and many more.
BYJU 'S learning App Features:
Easy registration/login with a few taps 8Interactive high school foundation classes 6-12 math & science, and competitive exams such as JEE, AIPMT, CAT & IAS 8Free video lessons on current affairs, general science, and CSAT.
Easy to take tests to help students increase their intelligence on state-of-the-art technology trends and history etc. 8Practical subscription option to make the required course 8Chat window to get instant support on courses and fees etc.
Factors which determine Byju's like App's development cost:
When one wants to create a Byju-like app, the first thing that stimulates his mind is how much it costs to develop a Byju-like app or how much money an app like BYJU Learning needs to construct. The cost of e-learning app development like Byju's depends on the following key parameters: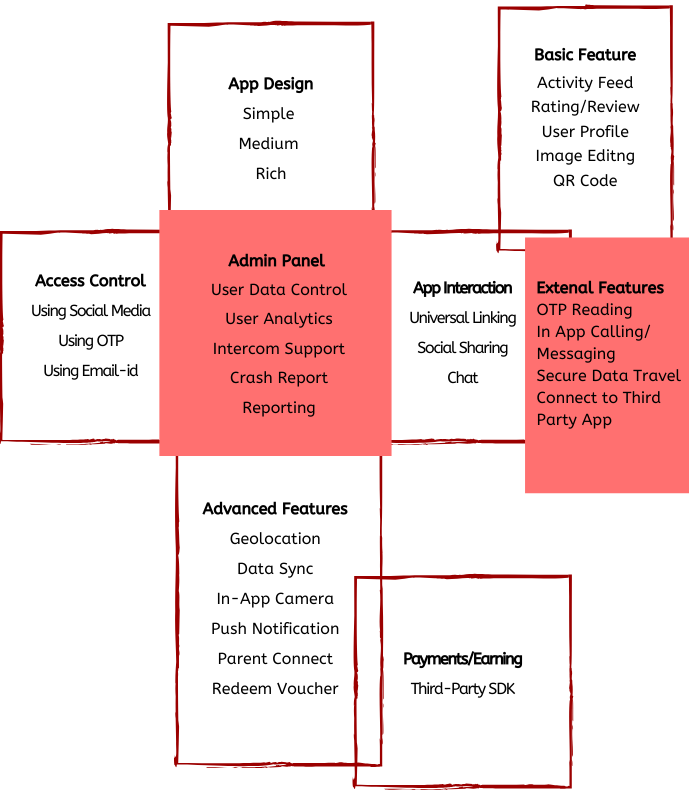 App design is one of the deciding factors of any cost of developing e-learning or m-learning software. The good design (UI & UX) can encourage students to interact with the app over an extended period of time. Good design needs more investment, but in the long run, it offers several tangible benefits. EPixelSoft has proven experience in designing and developing Byju's similar app at an affordable price.
Mobile platform (Android & iOS, etc.):
Byju's like app development for the iOS platform will cost comparatively less than on the Android platform, as it allows iOS applications to test against fewer devices.
Mode of use by users of technology and resources can also contribute to the cost concept to some degree. Many libraries offer open-source components and software while others are paid for with subscription fees during development. You can consult with the e-learning mobile app development company you choose for more precise details about this factor.

App size refers to the total number of features and functionality the app may have that can be in the form of video lessons or texts. You can reduce the cost of the creation of apps by giving preference to core features only in the app's version 1.
The inclusion of a wallet in the main app removes several payment problems and enriches the customer experience.
Post-Development Services
There is a range of app development companies providing a mature, robust package of services, including post-development maintenance, updates, and marketing. Therefore, if you find the proposal costly, you can ask your technology service provider if they provide any or all of these post-development services, too.
The expense of creating an e-learning app like Byju's also depends on the geographic location of the developers, their experience, and their level of expertise.
The cost of developing Byju's like app or any m-learning app is estimated on the following basic and advanced features along with the above factors.
Conclusion
The simple replica of Byju's educational app can be prepared for around $25,000 if outsourced to an Indian app development company based on the features and functionalities described above.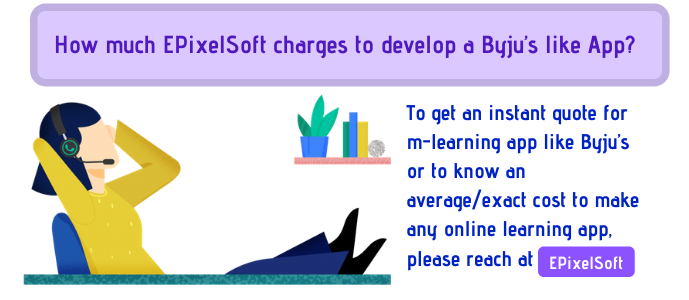 If you want it to work on both iOS and Android devices alike, the average cost of an ideal device like Byju- will hit anywhere between $30000 and $35000. The ultimate cost, however, may vary slightly from the amount mentioned, depending on how many additional features you may expect the developers to build. The investment would be worth it since we can see how much Byju's success is.