With Yelp, users can discover local businesses such as bars and restaurants, and resources like home cleaning and prepare for events. Users are able to read client reviews, write comments and rate them.
Yelp has three categories of users: local business users who just read reviews to find recommended business reviewers or content creators reviewers are important to sites like Yelp because they create content that is consumed by other users.
As with any large platform, over the years, Yelp has adapted and expanded its feature set. Users can book a table today, and order food for delivery or take-off. With the support of third-party integrations, Yelp enables transactions via the website and mobile app.
Core features of a Yelp-like app
If you want to build an app like Yelp, you need to know the key features of that type of platform first of all. Here are the main features of an app like Yelp.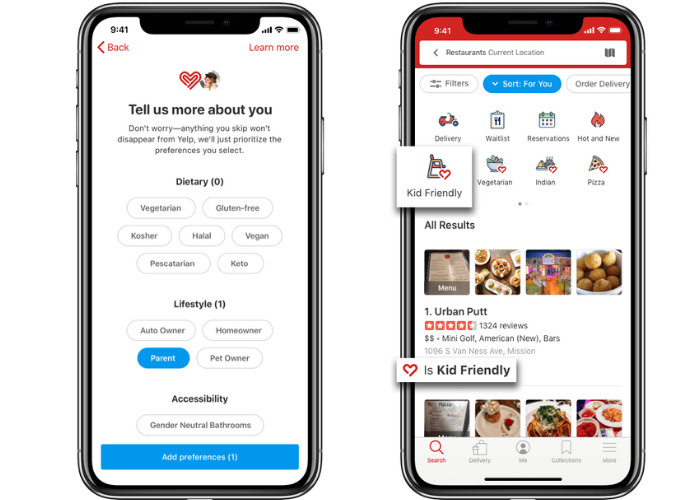 Review system and ratings
This feature allows users to rate places and services, leave feedback and select the top locations.
Personal login
This feature allows users to log in to social media accounts such as Facebook. As a result, people can start using the app more quickly by skipping the registration process.

Push notifications
Give users information that is based on their preferences. You can use the information from check-ins and reviews to personalize offers for your users.
Upload photo / video
This feature lets users share their reviews with photos and videos.
Analytics
Analysis. Yelp also offers business owners a mobile app where they can track their business activity on their business page.
Customer accounts
Yelp offers two types of accounts: personal user accounts and commercial accounts.
How do you make money with an app like Yelp?
Here are some methods for monetization that you can consider when deciding how to make money with an app like Yelp.
Premium features
This is called the Freemium model. Users are free to download and use the app, but there are some features they will have to pay for. The challenge here is to offer sufficient features to keep users who are not willing to pay while providing premium features that some users will actually pay for.
Transaction fees
Another potential source of revenue for an app such as Yelp is commissioning transactions such as ordering food. Yelp is already in the business of the transaction. Nevertheless, advertisement remains the main source of income for the company (more than 90 percent).

Advertising
Yelp Marketing offers marketing to businesses. Yelp advertisements are placed higher in the results of the search and on the business pages of rivals. Note that ads should be important to search queries so users don't get irritated.
Deals and offers
Yelp provides and promotes Yelp Deals, enabling companies to create promotional deals and draw more customers. Yelp gets payments for offering sales. There is one more advantage to this strategy: exclusive deals can attract new users.
How do you make an app like Yelp successful?
Focus on the user experience
When building your app and deciding on features, always bear in mind users and their needs. Since apps like Yelp are primarily used to find businesses and services, a user-friendly search is required for your app. Here's what you should remember to allow your users to quickly find what they need when designing the search feature:
Make a clear view of the search box:
Users don't want to spend any time searching for a bar. The UX copy is an important part of the interfaces. This is the next part of your app that guides users through your apps, such as instructions and navigation buttons, and creates a positive experience. Give users examples of what they might type in or ask questions in the search box
Provide suggestions for searching:
In a drop-down list, the search suggestions appear as user types in the search box. They deliver prompt results and help users find what they need as quickly as possible.
Store searches from recent times:
Users are saving time with a history of recent searches when they want to find something again. Consider searching for the voice. Voice search makes the use of a mobile app much easier on the go.
Find your niche
You'll have to compete with big players if you choose a common target market. While Yelp covers different types of enterprises and services, you might want to consider focusing on a particular niche. Let's look at other popular review platforms that target different audiences and see how they differ and what they have in common.
TripAdvisor targets tourists, enabling them to access reviews and write about destinations they have visited. That's why TripAdvisor only has categories related to travel, including hotels, things to do, restaurants and flights. You can find all these categories on Yelp but also, for example, educational and financial services.
Gamify
Gamification is an effective tool to motivate and engage users. It helps encourage and entertain users to write reviews, as well. Elements of gamification include badges Leader boards Points Challenges and Rewards.
One way to gamify an app is to offer badges to users to highlight their achievements. With any number of reviews left or places visited, badges can be issued.
Yelp users to join the Yelp Elite Squad will nominate themselves. A number of high-quality reviews are amongst the criteria. Members of Elite Squad get an Elite badge to mark their achievement on their profile. Users get the Gold Elite Badge after 5 years of membership, and the Black Elite Badge after 10 years. Another way to play a game is to provide a ranking system for those who are inspired.
Create a community
Yelp is putting the group first, the customer second and the company third. Yelp succeeds in making its users feel like they are part of a large family. This helps raise brand awareness and build trust for the company.
Consider allowing users of your app to rate reviews from others, add each other to their friends ' lists, and send messages. People are more likely to contribute to content when they are aware of who they write for. Yelp has gone even further, speaking of groups, hosting local Yelp events to let users connect in real life.
What it takes to create a Yelp-like app
The cost and time of creating an app like Yelp depend primarily on the number of features, the costs of the development company and whether the app will be built from scratch.

The production of a similar reviews site from scratch for the iOS platform takes approximately 3,806 hours, and 3,819 hours for the Android platform. To estimate the cost of the app development, we need to find out the average hourly rates of software growth companies in different regions.