Artificial Intelligence is a paragliding term for technologies such as RPA and describes the ability of a computer to imitate human thinking. RPA is a rule-based, non-intelligence program that automates repetitive tasks.
Artificial Intelligence, the buzzword that has spread in the tech world, has given rise to hundreds of discussions about the developments that surround it, and how it is reaching the industries. All the hype around AI and its technologies -Robotic Process Automation, Machine Learning (ML), and Natural Learning Process (NLP)- has created a lot of confusion.
One of the many myths is that they are synonymous with Artificial Intelligence and Robotic Process Automation (RPA). Although both technologies stir great enthusiasm around the automation of business processes, they each perform this role differently. We decided to decommission once and for all the confusion surrounding Artificial Intelligence and RPA technology. Firstly, start thinking of RPA as
Machine power
Robotic Process Automation (RPA) is a software designed to automate repeated manufacturing tasks to streamline business processes. The rule-based software evolved from screen scraping, workflow automation, and artificial intelligence to allow the software so that it can aggregate data, trigger responses, and initiate new actions.

Dubbed the RPA automated worker mimics human behavior to automate predictable daily workflows to increase productivity. The rules are designed, and the bots can extract and enter organized inputs from applications such as Excel into SAP. The software works just as a human would on the user interface, working efficiently with ERP and Customer Relationship Management systems.
Because of its ability to continually complete repetitive tasks that would otherwise be performed manually, the agile RPA program has gained enormous popularity and performance. Therefore freeing workers from repetitive activities and minimizing human error.
RPA's benefits prove it to be a reliable tool that achieves higher yield quality at a lower price tag and in less time than traditional methods. RPA tackles the process of IT support, workflow, and back-office work, all while boosting productivity at a lower cost than hiring a full-time worker.
RPA is useful for sectors such as insurance and banking with a high incidence of routine activities, but that's all it can do. It performs the tasks it intended to do efficiently and effectively without any real intelligence but the instructed rules, and nothing more.
The brains
As an individual, if you were to look up Artificial Intelligence, you would find an infinite quantity of knowledge (and fallacies) trying to explain its true meaning. The easiest way to define AI is to claim it is a paragliding term that describes a variety of technologies such as RPA and the ability of a computer to learn and mimic human thinking, such as judgment-based decisions, reasoning, and cognition.

So, let's break down that definition into two parts, AI technologies and the ability of a computer to imitate human mental capacity. AI opens a subset of technology such as ML and NLP that we can leverage to our advantage in doing more than just creating rule-based engines to automate repetitive tasks. AI now opens doors to such things as voice and facial recognition, voice assistants, and data analysis.
To render market and organizational recommendations, cognitive reasoning engines apply the collected data derived from observed patterns. What distinguishes AI from RPA is its ability to aggregate, manage, and understand unstructured data.
A movement alone, a force together
RPA and AI technologies are both great tools for streamlining business process automation, but they are a force to be relied on together. When AI is integrated with RPA, the automation process can be started much quicker, creating a continuum of automation.
A fully autonomous process would result in a more cognitive response, which would transmit it directly to the RPA system, which would then complete the task. This continuum of automation would result in production going even faster. This could be as simple as reducing waiting times on a customer inquiry issued during non-business hours when it comes to use-cases.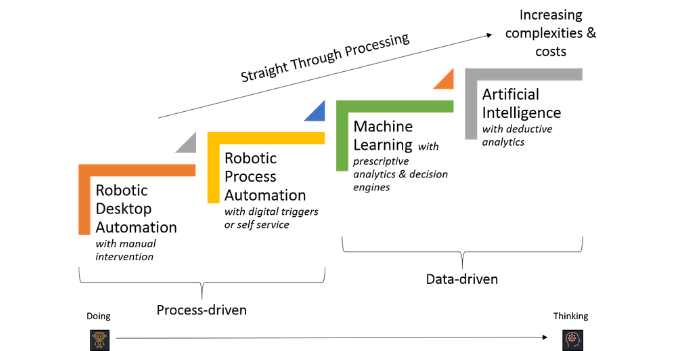 RPA and AI's future is burning ever brighter, as more companies continue to seek technologies that improve efficiency and cut costs. The technologies and techniques that continue to emerge from Artificial Intelligence will soon bring to the complete continuum of automation that businesses are desperately looking for as a front runner in today's fast-paced climate on a mission to exist.

We provide modular Robotic Process Automation (RPA) applications to use automatic rule-based engines to perform repetitive, manual processes. Using custom Blue Prism, UiPath, and Automation Anywhere integrations, these engines are designed to achieve a high volume and wide range of repetitive tasks with precision.