Data breach via unauthorized access has inflicted a revenue damage of nearly $3.86 million to the financial condition of companies worldwide. In similar context, the year-wise global average cost of data breach was reportedly about $3.62 in 2017, $3.86 in 2018, and $3.92 in 2019.


How come we turn out to be vulnerable to data breach?
The degree of vulnerability to data breach depends largely upon the attack surface that targets the parts of system defenselessly exposed to unamortized users. The point is, we risk vulnerability of data breach because of unawareness of the loopholes lying unattended in the security system.
Therefore, knowledge about any such vulnerability that a defenseless data system poses is the first step to devise some of the corrective measures to neutralize data breach attempts made by malicious spyware.
One of such measures requires deployment of threat intelligence system. The working method of this system is to mitigate the possibility of hacking to a data system and help you conceive informed decisions regarding how to roll out reinforcement measures for securing crucial data. A common understanding behind data vulnerability is the harmful spyware appearing as friendly in the host system.
If we study the anatomy of data breach, we conclude that it is attempted as driven by different motives, as explained in the following image.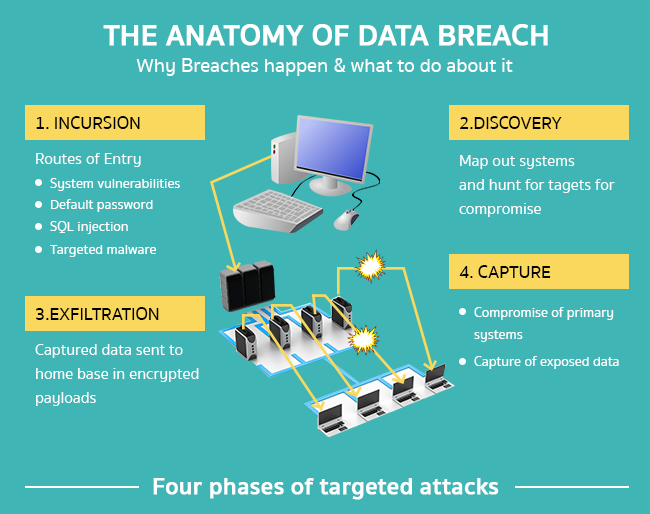 A form of cyber-attack known as Remote Code Execution (RCE) enables the hacker to remotely access your device while the malicious programs assume absolute control of your compromised device.
With countless varieties of malignant spyware emerging in a new avatar, the threat to data security on Cloud or in analog systems looms large more than ever.
And Pegasus spyware is the most lingering threat to a data breach in today's highly connected digital world. You will be surprised to know that the modus-operandi of Pegasus is based on the RCE pattern of launching a pernicious attack on vulnerable systems.
What is Pegasus spyware?
An Israeli technology firm known as NSO Group Technologies (NSO) developed Pegasus spyware that one can install on any smartphone running on iOS and Android platforms. The far-reaching danger of this spyware lies in its capability of exploiting all the latest iOS versions, a data breach of great precision.
Imagine the gravity of damage it could render on data privacy of a user's information saved in devices like PC, phones, tablets, and other digitally connected gadgets, once the spyware penetrates the system.
Pegasus is programmatically designed to-
Read your phone's text messages.
Track calls.
Collect passwords.
Track your phone's location.
Access our device's microphone and camera.
Harvest crucial data from the installed apps of your smartphone.
The name Pegasus given to this spyware is originated from a Greek mythological character of the same name. So, basically, it is a Trojan horse computer virus capable of infecting cell phones and compromising their crucial data.
The first discovery of Pegasus
In 2016, Ahmed Mansoor, an Arab human rights defender, received a text message, prompting him to follow a link containing some 'secrets' about torturing of prisoners in the UAE's prisons. Doubtful of the nature of the link, he sent it to the Citizen Lab for investigation and thence it was revealed as a malicious attack masquerading as friendly link in the device of Mansoor.
The team of Citizen Lab, in collaboration with the US-based Lookout, Inc. concluded that the spyware would have jailbroken Mansoor's phone had he opened the link, as doing so would have triggered implantation of the spyware in his phone.
Eventually, the lab reported that the dangerous cyber-attack was linked to the NSO Group.
Pegasus First Sighted In India
The presence of Pegasus in India was first reported by The Wire declaring that the phone numbers of more than 40 Indian journalists were on a hacking list of an anonymous agency using Pegasus.
The point is, the use of Pegasus is worldwide and is under the radar for being the "most sophisticated" spyware attack ever on phones.
Pegasus - A Lingering Threat to Data Security?
Pegasus is undoubtedly a rising global threat in an era where data security of people and corporate entities is of paramount importance. The reason Pegasus is a global threat to data privacy is because of seamless working capacity of the spyware qualifying it to become relatively more dangerous than other spyware breaching the data security system of phones.
For instance, with Pegasus spyware, you can remotely and covertly extract data from virtually any mobile devices and of course it rules out any interaction by the target, as it features zero-click installations achievable in different ways, including the over-the-air (OTA) option to infect the recipient device with the spyware.
Although the main victim of Pegasus has been iPhones by targeting Apple's default iMessage app and the Push Notification Service (APNs) protocol, yet its android version is also dangerous and can breach the data of a user's smartphone by impersonating an app downloaded to it and then transmitting itself as push notifications via the device's servers.
Preventive measures against Pegasus attack
Considering the long sordid history of malicious spyware attacks that continue uninterrupted, it's high time certain preventive measures brought in place to ensure security of your data. And its imperative, considering a sophisticated piece of spyware like Pegasus inflict against pernicious pattern of targeted surveillance using zero-day exploits in which the basic operation security of victim device come under absolute control of the spyware.
Defending Against Pegasus Attack-
Never get tempted to social engineering clickbait. The victims of Pegasus attacks were targeted through SMS and WhatsApp bait messages, leading them to click malware-loaded links containing downloadable spyware to damage the security system of the infected device of the users.
Keep your device's installed software updated. Devices with outdated OS are more vulnerable to spyware attacks.
Password-protect your device with difficult and convoluted alpha-numeric jumbles. Also enable two-step authentication for more security against data breach of your device.


Winding-up
Data breach through malicious spyware attacks has caused enormous revenue loss to companies from around the world, along with compromising their precious confidential data. Pegasus is the most sophisticated spyware being weaponized by hackers to target defenseless security systems of corporate entities and vulnerable devices of individual users.
Under such circumstances, maintaining tangible steps can help you evade the attack of even a sophisticated piece of spyware like Pegasus from getting your devices infected.
Though the lack of fail-safe measures augments the chance for data breach of your business and devices, adopting proactive measures as suggested above are at least better than resorting to the defeatist views that we are defenseless to Pegasus.
As of now, Pegasus spyware certainly assumes a lingering threat to the data breach with serious consequences, including corruption of database and leaking of private information or theft of intellectual property of businesses.